Fishing Reports 2014
---
Fishing Report 25th August
Sorry about the gap between my reports but it is mostly down to just being busy fishing! I do put up a short daily report on my facebook page which is facebook/carrigaholtseaangling so maybe a lot of you have been following that?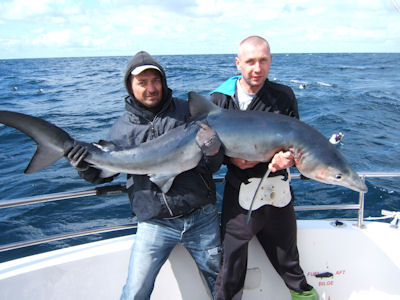 Anyway to try and bring you up to date…! I have been very busy and the weather has allowed us to fish almost every day and we have only had the very odd day in the estuary. First off, Mackerel (bait). Overall we have been able to get some every day and mostly there are plenty about. Over the last week they have been thick on the ground. Also some Scad have been showing up lately mixed through the Mackerel and of a good size. As I said we have not been in the estuary much, especially since the main run of Tope ended towards the end of July. The few days we were, was mostly Doggies and Ray sessions with the Collage bay proving the best mark. Further down just east of Horse Island we have had some good Bullhuss. Mackerel do seam to have moved up the estuary now but Pollack catches are slow.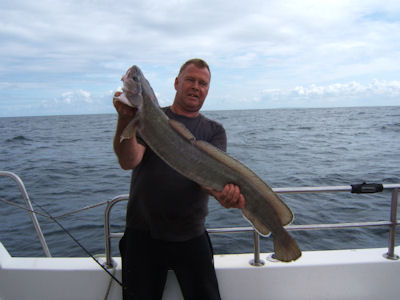 Indeed at the moment,(and I fished all the marks along the north side of the loop to Kilkee yesterday) catches of white fish along the shore are very slow. The only fish playing ball close in are some good Wrasse. At anchor we are getting some good Congers.
But if close in is slow at the moment, the fishing further off is as good as I have seen it an a few years. Catches have included lots of double figure Pollack and Ling and with the overall size of Pollack being very good. Also the catch rate of Cod is well up with some fisherman getting 2 at a time which is happy days! Most of these Cod are still quite small at under 4lbs but happily they seem to go back no bother and we have got some much better sized fish. We are also picking up Haddock, Whiting and Gurnard and even the odd John dory!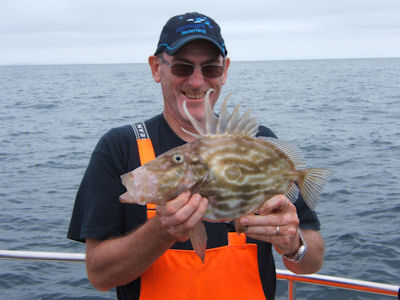 I have also been doing quite a few Shark drifts. There seem to be plenty of them about and indeed you can get plagued with smaller Blues at under 30lbs. On the plus side anything over 60lbs seems to be giving a very good scrap. I wonder is this because there is plenty of food about? There does seem to be a lot of small mackerel and other fry/sprat about this year. A nice surprise the other day while drifting for sharks, was a fine Stone Bass
Anyway, over all I am very pleased with the season so far. We seem to be busy and the catch rate is up on the last couple of years. This is helped but the good weather we have been getting. So thanks to all who have been fishing with me so far this year and I hope weather and fishing holds up for the fisherman that are due to fish with me over the next month.
---
Fishing Report 14th July
The last couple of weeks has been all day charters and trips put together so mostly just general fishing on the reefs on the drift. This has meant that most of the catch has been Pollack, Mackerel and Coalfish with a nice few Ling and a few Codling.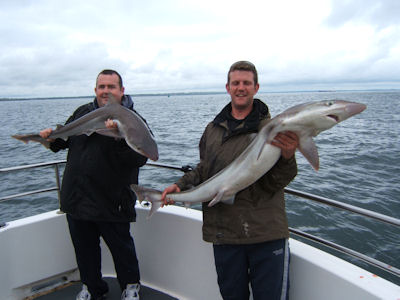 Catch rates have slowed down a bit from a couple of weeks ago but we are still having some very good days. Mackerel are still up to their tricks and the last 3 days gives you some idea of how it changes. On Friday last Mackerel were just thick around Loop Head and we filled a box in no time. Saturday was quite rough so we did not stay long at the head, but we were not getting any. A shift further north did give us a bit of shelter and a good scatter although not steady. Sunday was a better day but we had to work real hard to get enough for bait. Indeed overall Sunday was a slower day with one of the crew putting it down to there being a full Moon the night before although I am not convinced by that! The catch has included some extra Ling at the moment and this is especially noticeable when on the reefs out to the west of Loop Head.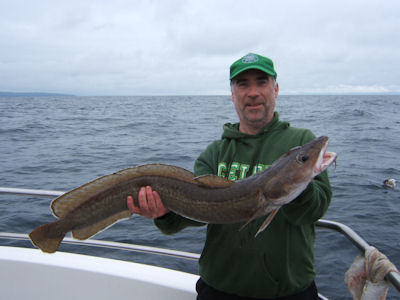 I did have a group out for a 2 day trip at the end of last week. Mostly made up of a group of brothers from Scotland who were getting together for a wedding of a Kiwi friend who was over here to marry a Irish girl. They were joined by two lads who had won a prize I sponsored for the Predator Tour run on Lough Derg. Such a varied group from different fishing backgrounds made for an interesting 2 days and adds to the fun of this job!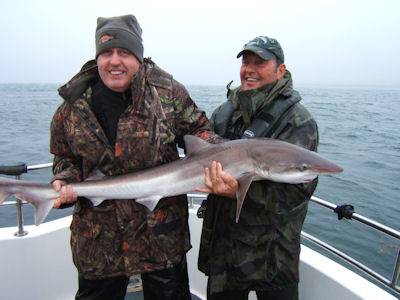 But because the group did have a bit more time we did try a Wrasse session which went ok and we also got in a Tope session which was full on. I anchored at one of my marks to get the last of the tide and in just over an hour we had 6 Tope in the boat with a few more dropped runs and a couple of snap offs, but again that's another story!!
---
Fishing Report 25th June
Well we are having a great spell of weather here with blue skies and flat seas although it looks like a bit of rain over the next day or two. With such pleasant conditions needless to say it is lovely to be out on the seas fishing and luckily this good weather coincided with a period over which I had a group in for a week so we got to try out lots of marks.
Along with the good weather I think it is fair to say that the fishing has been very good and I would say better than I have seen for a few years. Early last week Mackerel were thick on the ground and easy to catch. As the week went on they became more scattered but this also coincided with slacker tides and our time of arrival at the normal bait marks being at slack water. We seem to be able to catch them better when the tide is running.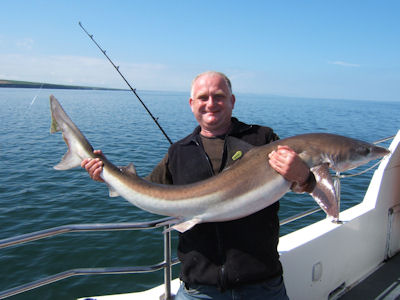 General fishing has been great with a great mix of fish and lots of Pollack if you want full on action. Two species that seem to be a lot more plentiful this year are Spurdog and Codling. The codling are mostly small at less than 2lbs but all over the ground and up to 20 a day. This is hopefully a good sign for the future. The Spurdogs have been a good size and we have had two Specimens over 12lb this week, one at 14lb 8oz and the other at 12lb 13oz.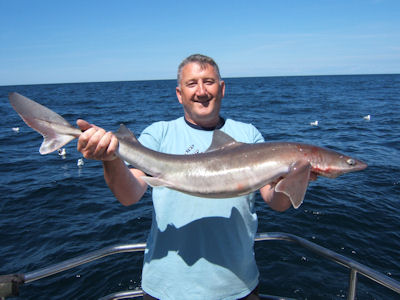 We have only put in one Tope session but there were plenty about and again the size was very good with all fish over 30lb and one Specimen of 43lb which is a good size for a male fish.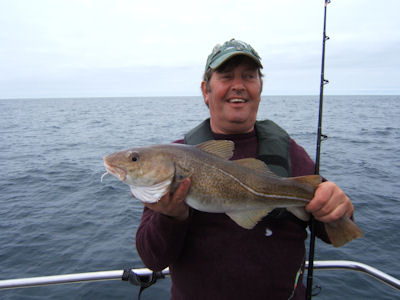 So all in all we have been very happy with the fishing and I look forwards to an interesting season.
---
Fishing Report 5th June
I suppose the highlight of this report is that we have caught the first Tope of our season here in the Shannon estuary. I don't normally start to target them until mid June but I had noticed last year that there seemed to be lots of them about by then so I decided to give it a go earlier this year. On a quick trip on a foggy morning I had a good 32lb female to the boat.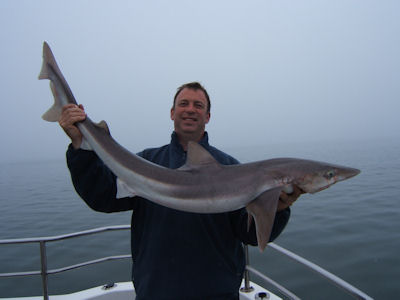 Overall the fishing has been going very good although disrupted a bit by the weather over the last few days. There seem to be lots of mixed Whitefish about, with around 400kg of fish to the boat on the best day. Mostly Pollack and Coalfish but also a nice sign of Cod and Ling.
Drifting out on some stony ground was turning up some fine Whiting of over 2.5lbs. As the season goes on these will turn into fine fish.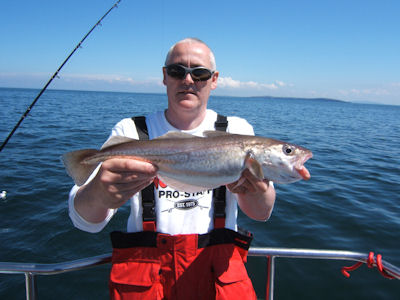 The Ling in the picture was caught on a Salmon spinning rod which a lad brought out to try. He was using one of my 4oz lead heads and had great fun with a fish on every cast!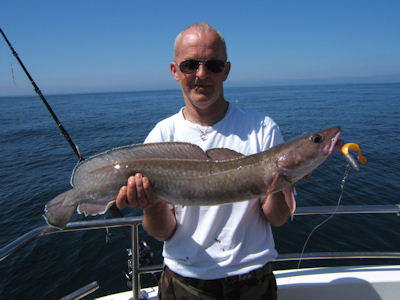 Just a quick note to say that next week (16 – 20 June), I have an individuals week. I keep getting asked by people if they can join in for a day so here is your chance! I do not believe in piling in the anglers but I do try to give the very best service so I am keeping the max number on any day to 7. I charge 80euro per person for the day which is from 9am till 5.30pm. At the moment there are a max of 3 places left available on any day and if interested you will need to book so please call me on 087 6367544, thanks!
---
Fishing Report 22 May
The new season has started here in Carrigaholt and I have done a few days fishing at this stage. After relaunching the boat in early April I got out fishing over the second weekend of the month but although there was a good sign of fish on the sounder they were not taking the hooks. So I tied up for two weeks to give the water a chance to warm up a bit and when we were next out there was a big change.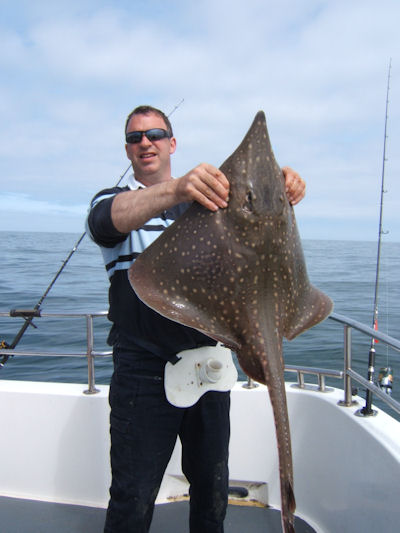 We got strait into big shoals of Mackerel, all of which were a very good size. Then when we moved out onto the deeper reefs the whitefish were really on the feed. It was a case of never reaching the bottom as Pollack and Coalfish were taking every thing on the drop!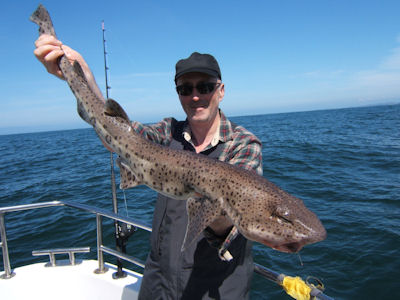 Over the last few weeks I am only out a couple of days a week, due to the weather or not having fisherman booked. But when I am out the fishing has been very good with the fishing settling into its season. Mackerel are not thick on the ground but we seem to get plenty at the same time, with a little patience. But deeper on the reefs the fishing seems to be well up with lots of Pollack and Coalfish. If we can get to the bottom we are picking up a few Cod, which is nice to see, along with Ling and Whiting.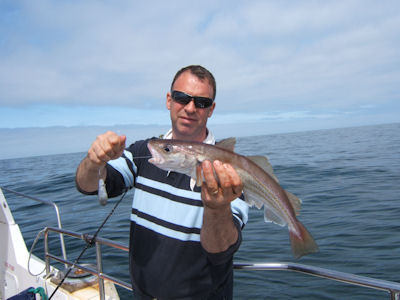 My last trip a couple of days ago was with a mate and I got a days fishing in myself. This was very enjoyable! We started off looking for a few fresh Mackerel for bait and when we had enough we did a couple of drifts close in using Rag worm and trying for Wrasse. This was great fun although it was noticeable that the wrasse are still in slightly deeper water than they will be as the season moves on. As it was a lovely day we decided to anchor up on a deep mark where we have had great mixed fishing, including an odd Six gill. So this was a cue to put down a big bait on a heavy rod. We also fished some "conger" traces and then passed the time with spinning rods. This time nothing hit the big trace but everything else was all action. We had Congers to 20lb, Bullhuss to 10 and lots of them and even a 40lb Skate! White fish coming in included black and white Pollack, a nice Cod, a couple of Ling and lots of fat Whiting. We finished the day with an action packed drift with Pollack and Coalfish to 9lbs although mostly around the 4lb mark and then some fresh Mackerel for dinner. All in all a great day and I will be hoping as the season moves on that the average size of the Pollack will improve.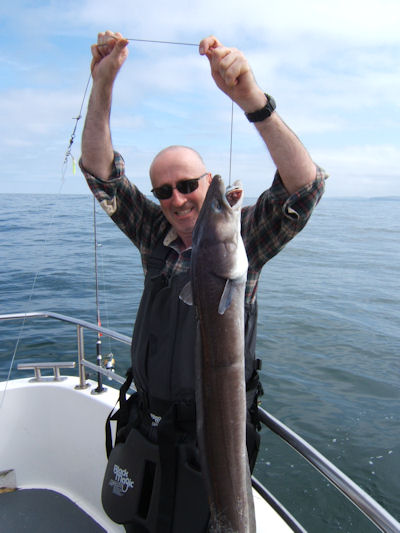 As I have said bookings at the moment are quite, so if anybody is interested do get in touch as from June on it already looks very busy. As of now June and July are over 60% booked and August and September only have 2 or 3 days free in the month. Although most of my trips are full charters I do put the odd trip together and the 16 to 20 June is open to individuals with 1 or 2 spaces still available on each day.
---
Fishing Reports from 2013
Fishing Report 22 July
Well we have had a lovely few weeks of weather with calm seas and hot sun. This has made fishing very pleasant and the main 'problem' is sun burn. The sea temp has now hit 19.5'C out at sea which is as worm as I have seen it in a while.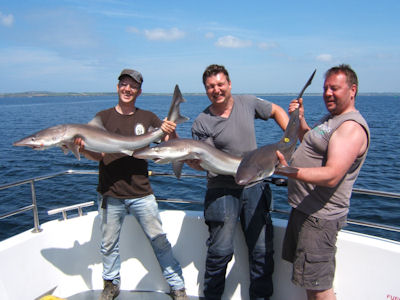 For the first part of this report period we were getting plenty of Mackerel for bait but they have become harder to get around Loop head and along the coast. The only place we are picking up a few at the moment is up the estuary closer to Carrigaholt.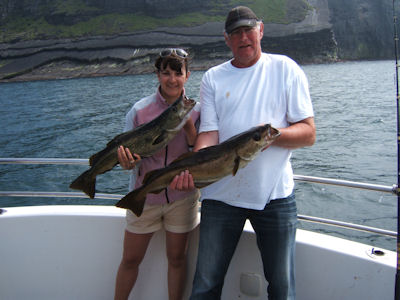 The bright hot weather and slack tides did seem to have the effect of slowing down the general fishing and the Pollack had gone off the take. For the last week the best Pollack fishing has been close in and we have got some good sized Pollack there. However today was more overcast than the last while and as the flood tide built this afternoon we got into some very good deep water Pollack fishing and had up to double figure fish.
The rest of the general deep fishing has been slow but steady with quite a few Ling about. We have also been getting some fine Whiting, Haddock and Red Gurnard. Cod are like hens teeth here though!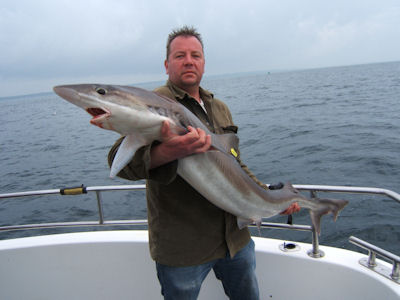 The highlight of the fishing over the last while has undoubtedly been the Tope fishing. We have had a couple of sessions of 2 to 3 hours when we have had up to 15 fish on the boat and almost the same number of missed runs. Indeed we have had Tope following the bait up to the boat when we lift them for a check! It is noticeable how there has been a more than normal number of females in the estuary this year. We have also had two tagged fish over the last week. By the 'aging' on the tags I would guess they are over a season in the water so it will be interesting to get the info back. And although I have been tagging quite a few Tope over the last years and have had returns from as far away as the Azores, these are the first tagged Tope I have caught. I wonder if I tagged them?!
The best fish was a 49lb female of 171cm in length and we had up to 3 coming to the boat together…great fun!
---
Fishing Report 1 July
Well since my last report the main fishing action has been the Tope in the estuary. They seem to have come on strong this year. As well as getting them at my "tope" marks we have also been picking them up while fishing for Ray. As normal the best bait has been fresh Mackerel and getting enough of these can be the trickiest part of this fishing!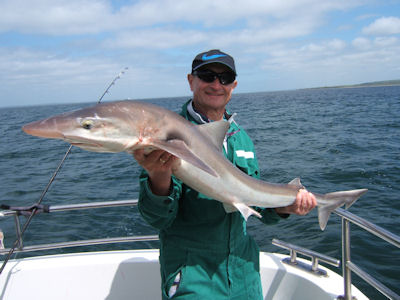 While there have been enough Mackerel around the Loop for the bait box they are now way sure even there and they have been very scarce further up the estuary. We have only got the odd few east of Horse Island. The general fishing around the mouth of the estuary and Loop head has been fair enough given the conditions and we have picked up some fine Pollack and even the odd fine Ling close in. There are also plenty of Saith around the 2 – 3 lb mark about.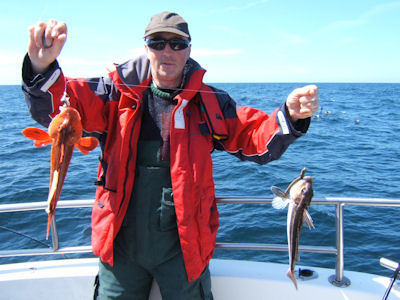 Further off when we did get out we have had some good mixed fishing with Gurnard, Whiting, Haddock, Ling and Pollack about. There have been days when we had to work hard to get busy fishing but we also have had spells when the fishing has been flat out. This on – off fishing is hard to fathom as there seem to be lots of fish on the marks and when they decide to feed the size has been good. Hopefully the good weather that is forecast for later this week will help things to settle down.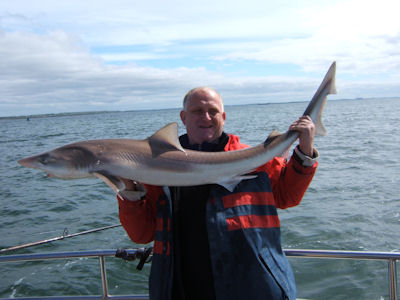 ---
Fishing Report 17 June
I was fishing with a nice group from Holland all last week. The weather changed a bit during their stay here but we had some lovely days fishing the reefs for the start of the week. For the last 2 days it became windy and wet but because of the estuary we fished in calm water and still had fun!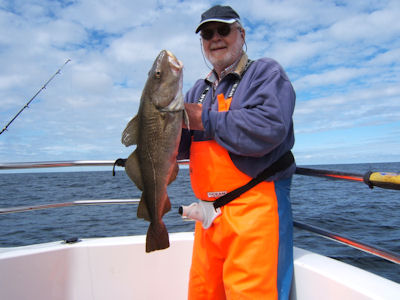 The fishing west of Loop head was good with a nice mix of fish about. Pollack were obliging and one of the lads was delighted with the sport he got on a new light spinning rod he had just got. There also seemed to be a fair amount of Ling and Haddock about although the weights were not massive. Some of the noticeable catches were double figure Cod and Spurdog.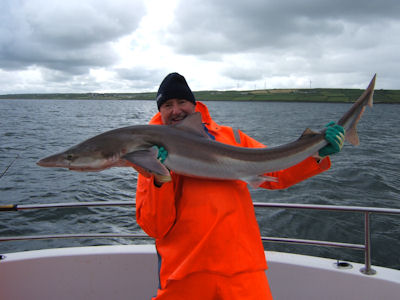 As I said we had to move into the estuary for the last two days and on the first of these we got a quick session at the tope and boated the first of the year, a 35lb male. As this group were new to this fishing we also missed about 4 more. For the rest of the day we had to move to more shelter a try for ray which was very quite. On the last day the wind was stronger but in the south so we could stay at the tope longer and got 5 to the boat and landed 3. So nice to see them about!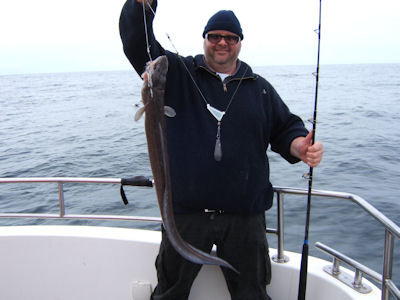 ---
Fishing Report 10 June
Well it's been Costa de Carrigaholt here for the last week!! What fabulous weather?!!
It has driven up the water temperature about 3'c over the last 10 days and it hit 31'c in my wheelhouse the other evening.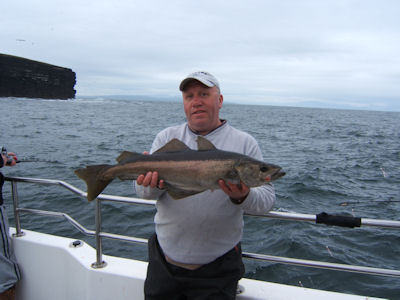 So with all this lovely calm seas I have got back out to some of the fishing marks well to the west and there is plenty of action around. We have come on some big shoals of Mackerel and Herring mixed and there are lots of Dolphins and Minke whales around. Also plenty of Pollack up to 9lbs mixed with Ling, Haddock and Whiting. We also picked up our first double figure Spur Dog yesterday.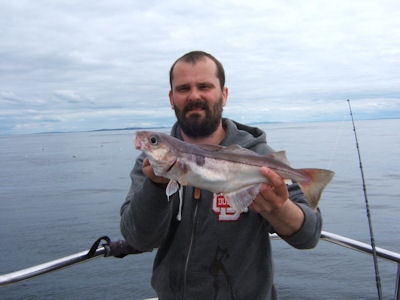 Closer in there are lots of Coalfish up to about 4lbs and the wrasse are playing ball. Mackerel can still be a bit hard to get but we are picking enough for bait. We have also been slammed by the odd fine Pollack while on the bait drift.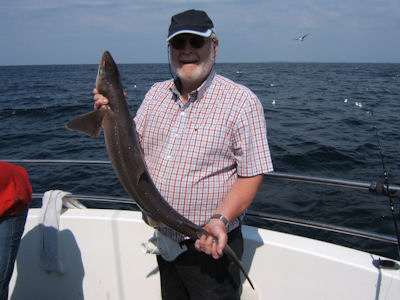 The weather has changed a little today and we fished in the shelter on the north side of Loop Head. Had a few handy Congers but good fun with the wrasse and some reef Pollack. The rest of the week looks changeable but if t settles again I will give the Tope a try to see if they are about yet.
---
Fishing Report 30 May 2013
Well at last I get round to my first report of the year and maybe that is the best reflection on what has been happening on the fishing front here so far! The main news is that the weather has played havoc on the start of the season. The unseasonably cold spring has meant that water temperature is still well below normal and the windy conditions have meant we have only got out to test the fishing now and again. However as I write this, things seem to be on the up and the forecast is good.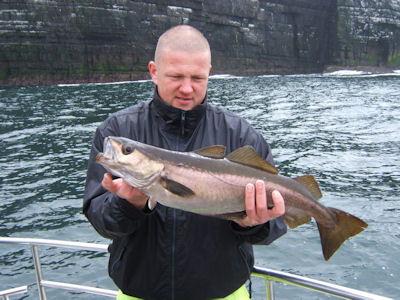 However let's not be all glum! When I have got out, and I did do 3 days last week, the fishing on the reefs just a few miles off has been excellent. While Mackerel have been very difficult with only one day so far when there were lots about, the amount of whitefish seems to be well up.
Only one day produced good Mackerel fishing but on that day the size of the fish was very good .On other days we have struggled to get any more than 3 or 4 of them. On the reefs there seem to be any amount of Pollack and Coalfish once you put in a little effort to find them. Most of them are in and around the 4lb bracket with some up to 8 lbs. If the numbers stay there should be great sport this year as the size increases. There have also been catches of Ling, Haddock and Whiting.
Closer in we have had a few fine Ballan Wrasse and the odd Bull Huss at anchor.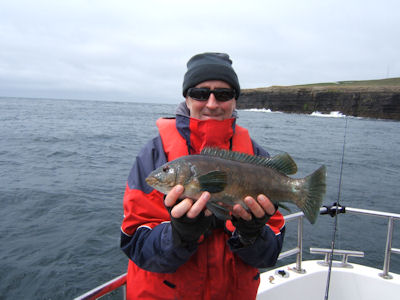 As this is my first report of the season can I just point out that I have some offers up on my web site www.fishandstay.com and if anybody is interested in putting a trip together please do get in touch. Also I Twitter from the boat on @fishandstay and try to update my face book page www.facebook.com/CarrigaholtSeaAngling fairly often!
Fishing Reports 2012
---
Fishing Report 10th September
Well it all came together for the group last week and in a way they deserved it as when they fished this week with me last year we got almost completely confined to fishing in shelter up the estuary. But this year they got real lucky with the weather and had a very good week that was topped off with another red letter day for us.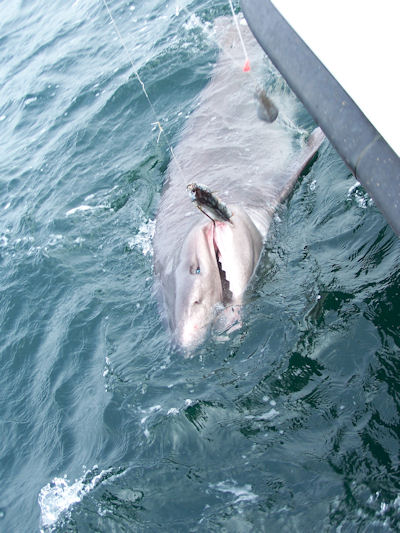 The week started with a lovely day on the drift out west of Loop Head and we had a lovely days fishing with plenty of hard diving Pollack and a few Ling and other white fish. Then we did their only day in the estuary when we had lots of Ray and even got a bit of a tope run. The next day saw us out at sea again on a shark drift with some mixed fishing from the bottom. Then a day anchor fishing which produced some Congers and a lovely Rock Ling. Listing all the species we got would take a while but it is fair to say that last weeks fishing more or less produced every fish there is in this area and it was a great variety.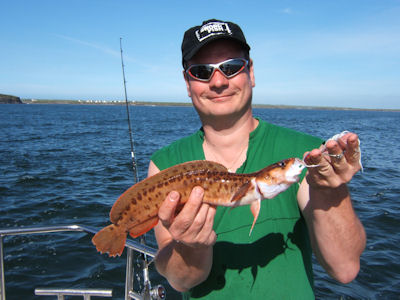 Then on Friday, which was the groups last day we topped it all off! During the week we had joked about getting a Six gill and I said if the conditions were right we would fish on the mark and who knows! It is never a waste to anchor there anyway as we have had some great mixed fishing off it. However, although we have by now hooked into these giant fish around 9 or 10 times, it was the first time I have really set out to try to catch one from the start!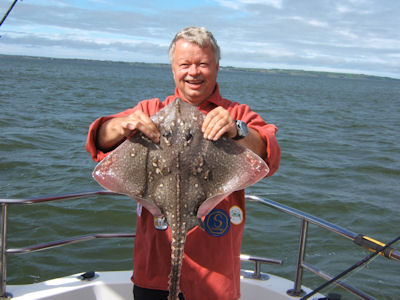 As it turned out the mark lived up to all expectations. Upon anchoring I sent down 2 heavy "Six Gill" rigs and the lads started fishing away as normal. During the first while the lads had turned up Pollack, Ling, Whiting, Cuckoo Wrasse, Conger, Dogfish, Bullhuss, Spurdog and even a little Blue Shark of about 20lbs off the bottom. One of the lads commentated that the fishing was getting quieter as we settled down for a cup of tea and then one of the heavy rods started to nod!! A couple of turns on the reel to tighten the line resulted in a heavy run and we started to dream. It took Simon 1 hour and 50 minuets to get what proved to be another huge Shark to the surface. And although he was offered a "rest" by other members of the crew, there was no way he was handing it over and he fought it well and hard.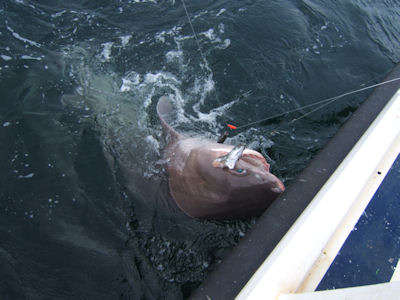 The only way you can measure these are by taking marks on the boat but the best we could come up with was 3.6mtrs long and I estimate its weight at 700lbs. All I know is that they are huge fish and they send a tingle down you spine when you see them first below the boat. And what I was very happy about this time was that, although we have now had quite a few of these over the last 5 years, this was the first time I set out with a crew with the expressed intention of getting one. I think it is quite something to be able target Shark of up to and over 1000lbs and again shows that here in Ireland and in Carrigaholt, weather permitting, the fishing is world class.
---
Fishing Report 3 September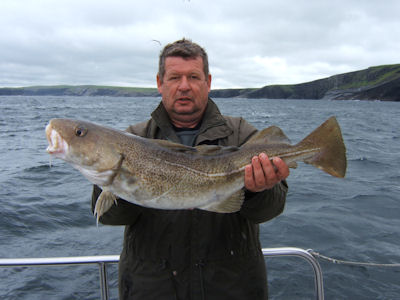 Into September now and you would notice the day shorting but by the looks of it we are having a little bit of an Indian summer!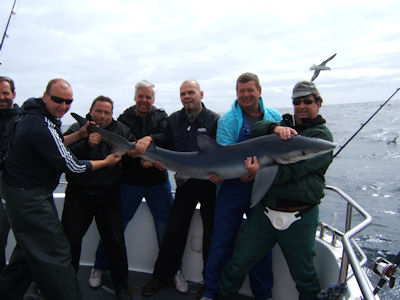 Fishing over the last 2 weeks has been very busy. On both weeks I had a large group in for 6 days so when conditions allowed there has been lots of action on the boat. We have had a bit of a struggle with the weather but got out every day. The Ray fishing in the estuary seems to have picked up and even in very poor conditions we have had a steady catch rate. On days with fresh south winds I have been taking advantage of the shelter on the north side of the Loop Head peninsular and here we have had some good Conger fishing with plenty of fish up to the 25lb mark. Also there have been some good patches of fine Pollack feeding hard and giving good sport. On one of these drifts we came on a small spot of decent Cod and had one of 13lbs. One of the lads also took a specimen Cuckoo Wrasse in this area.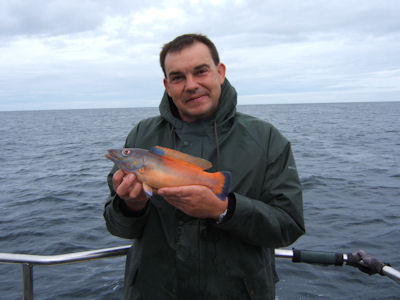 Out in the open sea we have been doing my first Blue Shark drifts of the year. While numbers have not been big and our best day so far has been 3 shark, the size of the Blues has been on the bigger end with quite a few over 2 mtrs. And they seem to be giving a good scrap with some of them taking over half an hour to boat. There are also a few Garfish showing and some nice Gurnard and Whiting from the bottom in the area that I drift.
---
Fishing report 20th August
Well the group in last week were lucky with the weather and although they did lose a day to very windy conditions they also had some wonderful clear blue sunny days and calm seas.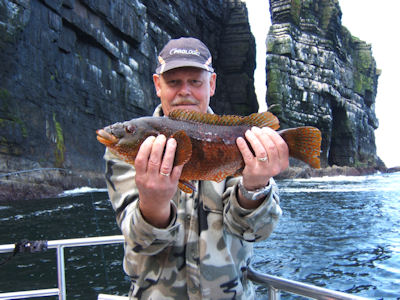 We had a good range of fish during the week. Early on we did a couple of long drifts on the reefs out to the west of Loop Head. This produced a good range of fish and some good fun on shads. The Pollack were not feeding all the time but when they did it was flat out. We also ran into a shoal of Spurdogs and had a lot of fish around the 10lb mark. One of the lads had a Specimen of almost 13lbs.
Although we did not have any rag worm we did have a couple of wrasse sessions and with the calm conditions got very close. Using Mackerel strips we did not have as many fish but the ones we did have were of a very good size. The conger fishing is also going well and a day charter at the weekend had 12 fish in just over an hour.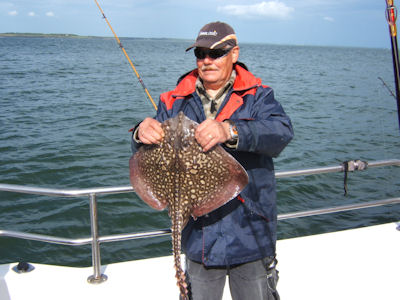 The estuary fishing is ok on some of the marks but very quite on others. It seems very important to get fishing at the right stage of the tide. We did have Dogfish, Bullhuss, Whiting and some good Thornback Ray.
---
Fishing Report 13th August
Fishing over the last two weeks since my last report has been very busy and mostly with groups that are out for a day charter or in for a short package. So this has meant that I have been doing much the same type of fishing each day which amounts to getting fresh bait in first and then heading off to fish on the drift.
The weather is still very changeable and not at all reliable but on the whole not too bad. We have had some flat calm days and I do take advantage of this to do some deep water fishing at anchor. This has turned up the odd good Conger session and we even got hooked up to what can only have been another Six Gill but unfortunately we did not manage to get this one to the surface. And this was in spite of hooking up on 80lb gear and having it on at one stage for 50 mins. Each time it broke off we set up another trace and we hooked up 4 times during the day but it smashed whatever we used including one trace with over 350lb wire on it. It was one of the biggest and most active fish we have hooked so far.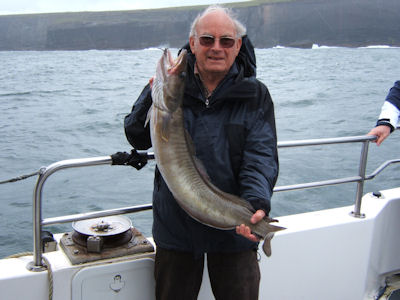 Out to the west of Loop Head the fishing is more mixed with a good range of fish including Pollack, Saith, Haddock, Ling, Codling, Gurnard and Whiting among others.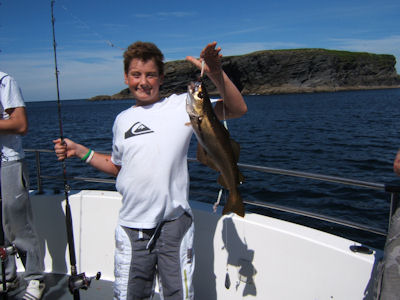 With most of the stronger winds over the last while from the south or south east we have also taken advantage of the shelter on the north side of the peninsular. Here the fishing is not so mixed but we have been getting plenty fine Pollack on the drift along with the odd very fine Ling. If possible we also get in close enough to have a crack at the Wrasse. Anchor fishing here is also turning up congers over 20lbs which are always a challenge. Also some good Scad have turned up on the ground, which have been missing in numbers for a couple of years. Some of the ones we have caught have been very close to specimen size.
---
Fishing Report 30th July
Same group in fishing with me all last week and they had a good range of fish but the highlight had to be last Thursday when we hooked into another Six Gilled Shark and then followed up with a Specimen John Dory. Each a great catch!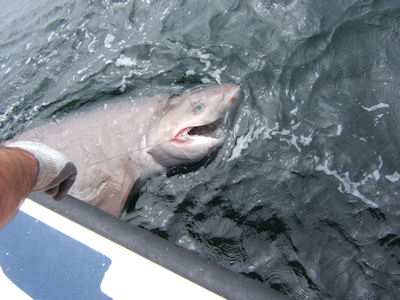 The week started with a wet day on the drift fishing for a range of fish and doing a lot of shad fishing. This produced some fine Pollack and some other species. Then we had a Tope session the next day and although conditions were good this was slack enough although we did have one fine 36lb male fish in the boat. I think it is safe to say we are coming to the end of our Tope season here and although I would still expect to get them from time to time they will not be so reliable going on past experience. We also had a couple of very busy Wrasse sessions with the group enjoying this type of fishing. Another day on the drift well out on the wide turned up a couple of fine Spurdog among other fish but it is always hard to get these lads away from the lead head shads fished on spinning rods, so that form of fishing was used more than baited hooks.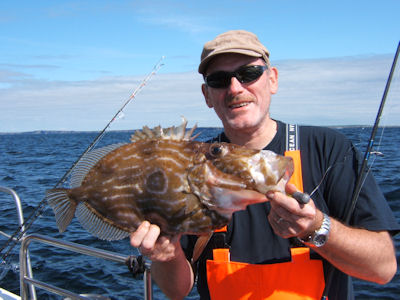 On Thursday with good conditions we headed for a mark that has produced many good fish for me including Conger, Skate and on at least on occasion each year over the last five, some fine Six Gill shark. One of the lads decided to fish "heavy" and we put on a skate trace with a big bait. We did not have to wait that long for a heavy bite and although we got plenty head shakes early on, after an hour some people on the boat we talking about "being stuck in the bottom"! But shortly after that there was more obvious movement as the fish tired and started to come up before heading back to the sea bed. Another hour gave us our first look at what turned out to be a Six Gill shark of 3.5mtrs length and an estimated 600lbs. Luckily the hook had stuck right in the scissors of its mouth so the mono trace was clear! What a monster to see on the surface. After lots of photos and some film it was turned loose. As if this was not enough for the day, the lads were again back at the shads and just as we got to lines up one of them landed a fine Specimen John dory of 2.31kg or over 5lbs!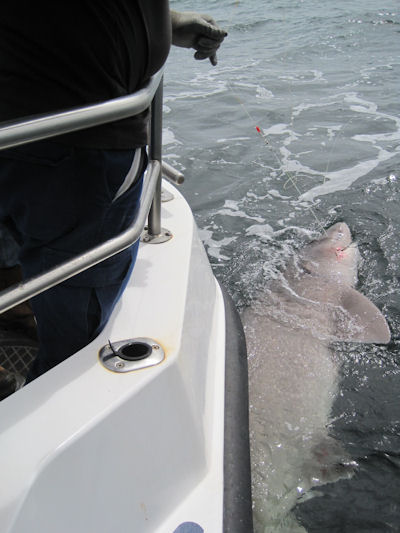 As the wind picked up for the end of the week we fished more in the estuary, but as the Mackerel had moved well into it we had plenty easy bait and they seemed to also have tempted some fine Pollack into the estuary. The best of these was almost 10lbs which was a fine fish for that area. We also had a fun session on Thornback ray and Doggies with plenty of fish coming to the boat.
Just today I had another day charter out and in quite calm conditions we had a good mix, including plenty Whiting and Haddock and a couple of fine Cod.
---
Fishing Report 23 July
Fishing since my last report has been about par with a good mix of fish about. The Tope are still showing in the estuary and with one young group I had 3 anglers who each had their first Tope in a short 1 hour session! As if to prove their luck I was on the same mark a couple of days later for a much longer session with a group of far more experienced anglers and out of 9 good runs just landed 3!! In fairness the Tope seemed very nervous that day and were also rolling a lot more than seemed normal. At least 2 good fish that were well hooked seemed to roll up the trace and part the line.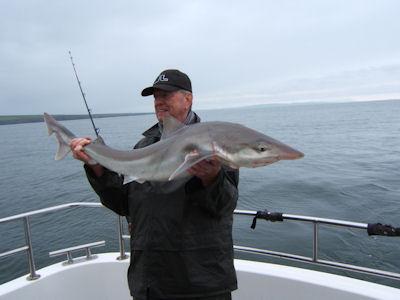 At sea the main change has been the lack of Mackerel close to the land. At the moment it is hard to get any inside a mile of the shore. However there are plenty of them just outside that and we have had a couple of sessions with fine Pollack raiding just under the shoals and providing a great surprise when you are geared up for Mackerel. Indeed I am convinced that on suitable gear a Pollack approaching double figures, feeding hard in mid water is by far the best sport in these waters. Some of my Dutch visitors who fish a lot on mid channel Bass at home would be of the same opinion. This week the Pollack do seem to be of a bigger size and taking shads hard when on the feed.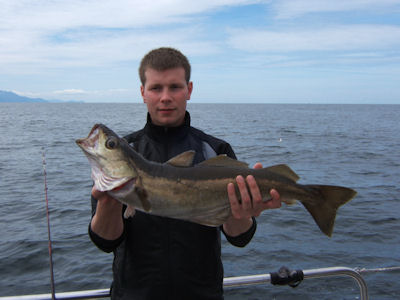 At anchor we are still getting some fine Bullhuss and some Congers. On a nice day fishing in 60mtrs this is a lovely fishing with a mixture of mixed whitefish coming to the boat as well.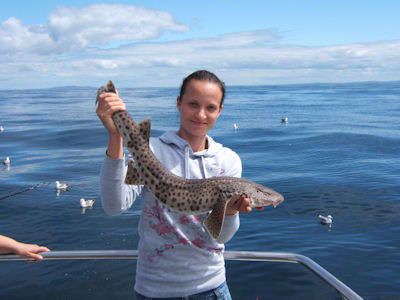 ---
Fishing Report 10 July
We are getting very busy now and over the next 3 months I would expect to be out most days. However the group that were due in last week had to pull out due to very distressing personal circumstances. This meant that I we only out a few days last week and was fishing with put together groups.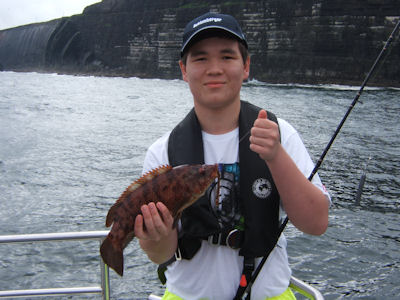 Last Friday was lovely here and as luck would have it a group of lads that had fished with me at different times came together for the day. We picked up our bait quite quickly and as conditions were good we gave a Wrasse mark a try. This gave us a very busy session with lots of Ballan Wrasse to about 4lbs. We then ventured out to the deeper reefs where we had some nice mixed fishing but not a lot of Pollack. Anchoring up in just over 60 mtrs gave us a good Conger session and as the tide came on the Pollack started to play ball! However as is often the case when the weather is as changeable as it has been here it was fits and starts for the rest of the drift. However we had a good days fishing overall.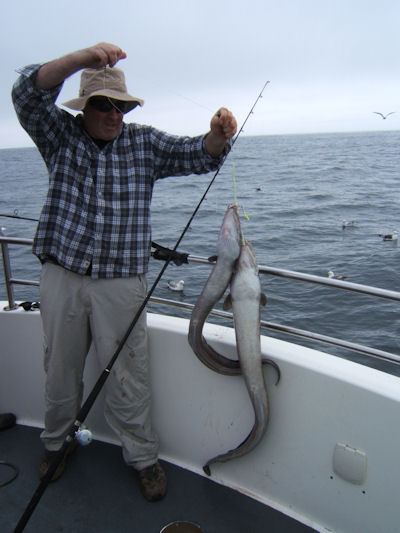 Over the weekend we have had a lot of fresh Northerly wind and this has meant we have been fishing on the south side of the Loop in the shelter quite a lot. The Mackerel are starting to move into the estuary now and indeed we have been getting quite a few Pollack here but mostly in the 2 to 4lb range.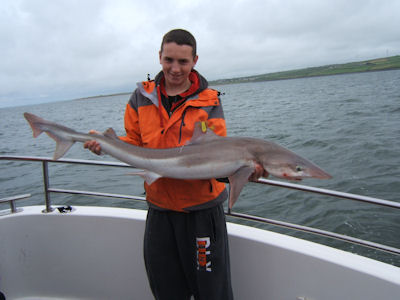 However even in this changeable weather we have had also be able to try for the Tope and are getting them every time at the moment. This lead to a bit of excitement for a young group I had out on Monday with which I tried a short 40 min stop at a tope mark to end the day. Even though these lads had not fished much on the sea before we had 3 Tope to the boat!
---
2012
Sorry about the delay in getting a report up for 2012 but here goes!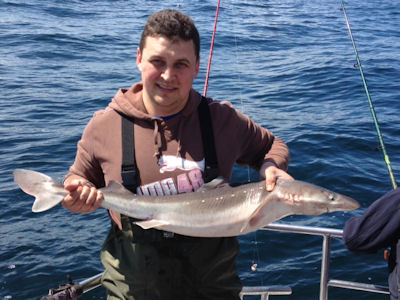 Weather has been very mixed overall and i think this has lead to the fishing also being very stop start. We have had a great showing of Mackerel this year, miles ahead of at any time in 2011 and most of the time they have been of a fine size. General fishing has been very stop start with the fishing changing from day to day and hour to hour but we have had some rearly good sessions.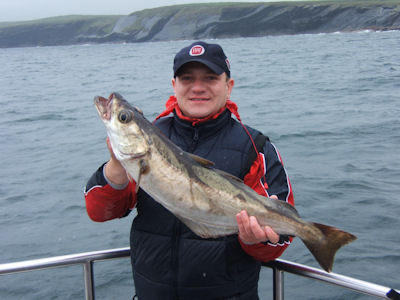 The most notacable thing has been the way in which the Pollack have been coming on and off the feed but this has also ment we have had some more variety. There seem to be a nice sign of Haddock about and we have had quite a few Spurdog to over 10lbs.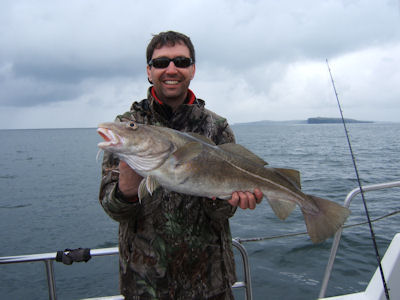 TheWrasse fishing has been fun with rag worm being the king bait here and we have also had a fine specimen Red Gurnard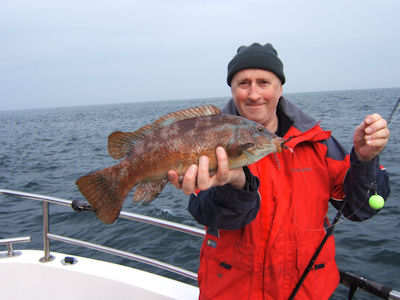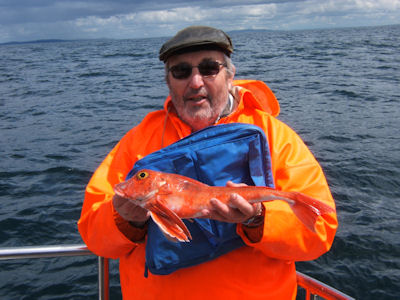 Over the last few weeks we have had some good sessions on the Bull Huss and Conger and the tope have been showing up as well!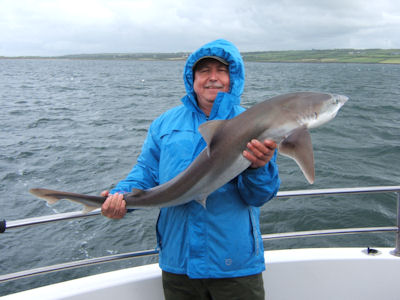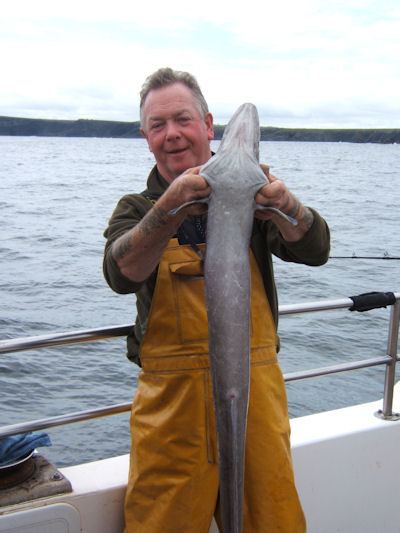 So I am getting into my busy season now and hopefull i will be able to keep these fishing reports done. I have also been trying to put some pictures up on a Carrigaholt Sea Angling page on Facebook for any of you that are into that!
---