Fishing Reports 2011
---
Fishing Report 20th October
My main fishing season is over now and I will just do the odd day trip now as demand dictates up until early January when the boat will be lifted for it's annual maintenance.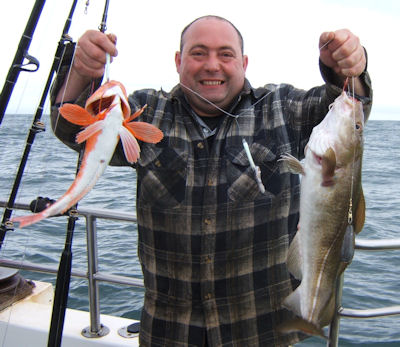 have just been out 2 or 3 times a week over the last while and all on day charters. Generally the fishing has been very good but the weather has been hard work and very uncertain. There has been a lot of sprat in the lower estuary and the Mackerel have been feeding on them. The size of the Mackerel is very variable from small Joey's to large harvest Mackerel and all mixed in together. We haveI come on the odd shoal close to loop head which was all large but these shoals have not been widespread.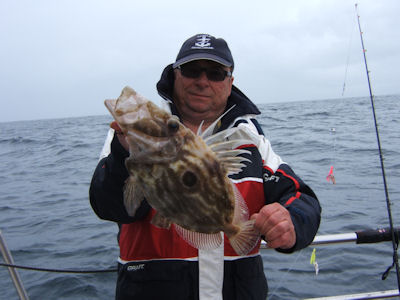 The ground fishing is going very well with a lovely mix of fish about. Star of the show has been the return of Cod in reasonable numbers. They are not always playing ball but we have been getting reasonable catches of up to 20 fish a day mostly around the 6 to 10 lb mark. Another species that has made a bit of a return is the Spurdogs and we have been getting these mostly around the 8lb mark.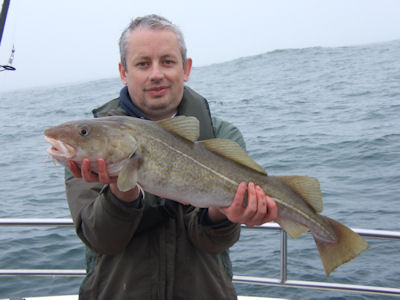 Pollack are abundant on most days, or at least for some period of each day! We have had some great sport fishing for them with shads on light tackle. We have also had reasonable catches of Haddock, Coalfish, Gurnard and Ling. And one noticeable recent catch was a fine John Dory of over 3lbs.
---
Fishing Report 26th September
Weather over the last week was still not 100% but I was able to get out fishing again!
I was not fishing every day and the fishing I did was with different groups in for day trips.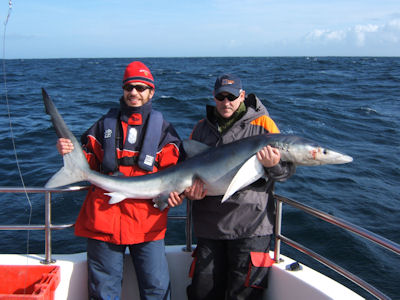 I did 2 days where we were just fishing in the estuary and although on the second day the fisherman were not the most experienced we probably had the better days fishing. Not sure if this was because as the seas settled the conditions at the bottom were improving or if it was because of the state of the tide or was it just plain luck!! Any way there were a few Mackerel still up in the estuary above Carrigaholt and with them as bait we caught quite a few Thornback ray to 8lbs and our share of Doggies. There were also a few small Pollack on some rough in the deepest parts.
Then last Saturday I managed to get out for a shark drift. We were not sure if this would go ahead till we went out to have a look but as the lads were happy to just fish the estuary if conditions were not suitable we went ahead and tried. As it turned out conditions, once clear of the land, were not bad although the water temperature had fallen back to 13.5'C. Once in position I set the drift and we had a good run quite quickly. This turned out to be a Blue Shark around the 80lb mark but it gave a fight more normal with a bigger shark. Then we had a second lighter run and when we got the fish to the boat it turned out it was a small Porbeagle Shark of 30 to 35lb. It was great to see one of these about. There is no doubt that the cooler water is cutting the number of shark about but I also wondered if it was because of this that the Blue put up such a fight and that we caught the Porbeagle?
At the moment I have a group in for a few days fishing and today I had my first "normal" days fishing on the reefs west of the Loop in 3 weeks! This was a very good day with lots of fish of all types about and we had fish coming to the boat continually all day. Indeed the fishing was as good as it gets!
---
Fishing Report 19th September
I have been driven demented by the weather over the last week!! Not able to get out on the days we are booked and am only getting very short weather windows. It is as bad a spell as I can remember for the time of year and I am still hoping that we might get another spell of fine weather before the winter closes in.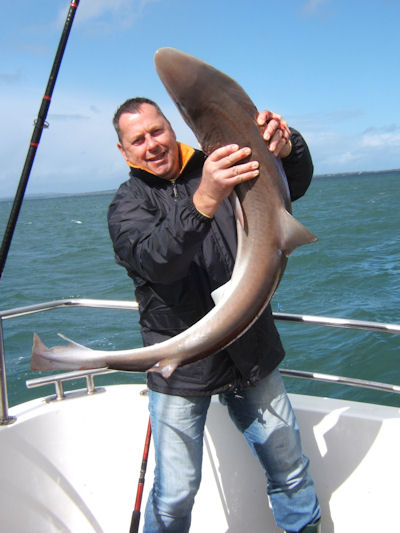 Before the weather really broke I had a group in from Holland. Although the weather was not perfect we did get fishing. In the estuary we had some fair sessions with the majority of the catch made up of thornback ray in the 5 to10lb bracket. One of the lads had a Tope on a spinning rod which was good fun. The fishing would come on in spurts depending on the stage of the tide.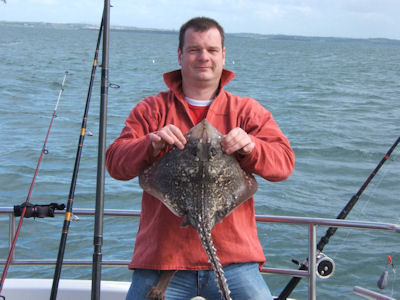 Out to sea we had some very good shad fishing for Pollack with fish on every cast. We did try a shark drift but with the sea in a mixed up state due to the changing wind it was hard to get a steady drift and the boat was turning and making it very difficult.
I still have quite a few trips booked over the next 10 days so I will be hoping for a change for the better in the conditions and hopefully can get out to what should be prime time fishing!
---
Fishing Report 5th September
Lovely week last week with fine weather and good fishing. Got to do as we wanted with the group that were in and fishing was good in the area.
The reefs out to the west were producing a fine mix of fish on the drift with lots of Ling, Pollack and Haddock about. We also had some nice Cod with them even coming up in two's! Also on the drift we had Gurnard, Pouting, Whiting, Coalfish and Spurdogs. I anchored in this deep water for the turn of the tide and this produced Conger, Bullhuss and Dogfish along with a steady stream of the normal suspects!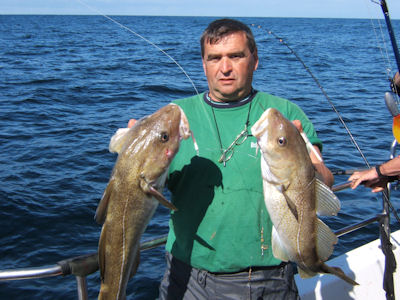 On another day north of Loop Head we ran in to an area of Pollack that were feeding high in the water and this produced some great sport on shads as well as the normal rigs. A bit further west in this area was where we spent 2 days shark fishing and the fishing was steady with 3 Blue shark on the boat on each day along with a couple of missed fish. Fishing on the bottom was producing some fine Whiting and Gurnard. We also had a good session on Wrasse close to the rocks.
We spent one day early last week and yesterday in the estuary and this produced a fine steady run of Ray and another Tope along with some fine Gray Gurnard and the normal Doggies! Mackerel are also still to be caught well up the estuary.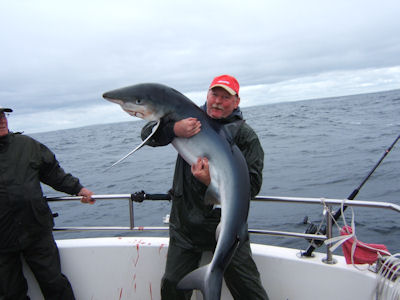 Also over the weekend I had a day charter where we were targeting Shark. I fished this over a stone bank and we had some very good Cod fishing off the bottom which was lovely to see.
Pity as I write this the weather has really become broken and we a struggling to get out at all.
---
Fishing Report 29 Aug
Had a good week last week, with some time to try out a trip with some lads I know, a little bit further off than normal. We fished right into the evening and in some lovely weather were treated to a fantastic sunset surrounded by Dolphins, Whales and even Sharks which we could pick out swimming on the surface as the water was so flat! We were hoping to get a few tuna but had no luck with that, but it was a trip that I will remember.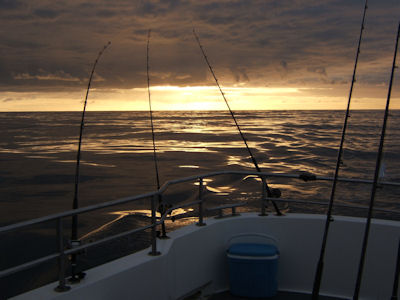 Then back to the day job and with the winds now strong enough to limit us fishing out to the west I spent more time fishing on either side of the loop head peninsula in order to get some shelter. Fishing up to the north in a fresh south east wind we had some great ground fishing with a good sign of Pollack which were taking the shads very well.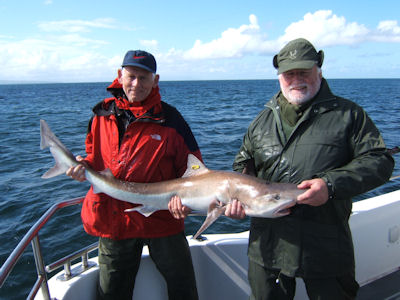 As the winds shifted to a very fresh north westerly direction we spent the last few days fishing to the south of the Loop. This gave us some very calm conditions at anchor and just east of Horse Island we picked up some good Bullhuss and a fine Tope of 38lbs. This Tope was tagged and it was the first tagged Tope I have caught so I will be interested to find out if it had moved much or if it was one I had tagged over the last couple of years. (It was not one I had tagged this year and the tag looked as if it was it the water for some time) Anyway we took all its measurements and sent it on its merry way! Closer to home in collage bay we were getting some good ray fishing. This was best after high tide and on the last evening we tried it was not yet high tide and it was noticeable how much slower the fishing was.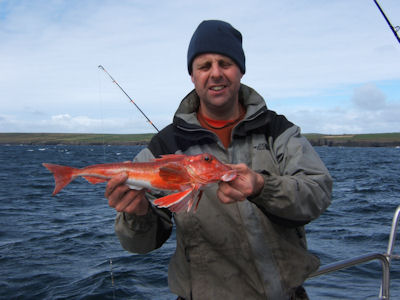 On a few drifts in the lower estuary we were getting lots of Mackerel and Pollack with a few codling and Haddock in the mix. We also had a fine Tub gurnard of over 4 lbs.
As I write this report the weather has taken a wonderful turn for the better and we have had a great days fishing back out to the west.
---
Fishing Report 21 August
Fishing has been going well over the last week with lots of species around. Mackerel are now very plentiful around Loop Head. The general fishing is good but we are having some slow periods during the day, mostly when the tide holds the boat up against the wind and we do not get any drift. Varying the methods of fishing can bring on the fishing even when slow.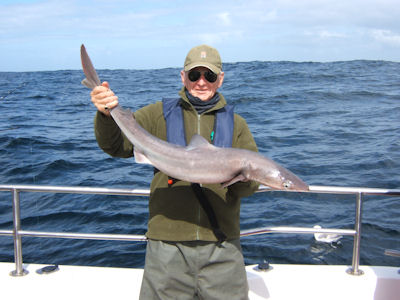 We have also had some first class fishing with some big Ling turning up all over the ground. The best over the last week was 17lbs and was taken on a single baited hook. The shad fishing has also turned up some great fishing, with Pollack feeding high in the water. I got one group of lads on to it that had not fished using this method before and we had a great afternoon session. On another day one fellow was using a big chrome perk on the bottom of his rigs and out fished the rest of the boat, even landing a specimen Spur Dog of 13lbs, some nice Ling and Pollock and even a Bull Huss on the drift! And this was on a quite day!!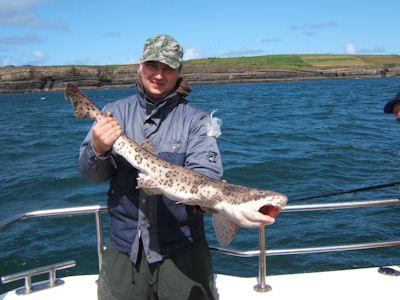 The shark fishing has been turning in the results with shark to the boat on the 2 days this week that we went after them. The best on both days were around 220cm and about 90 to 100lbs. Both these fish gave a great fight on 30lb tackle and took almost half an hour to get into the boat. One of these bigger sharks had a lot of old bite marks and had obviously been attacked by another shark some days before we caught him, this was something that I had not seen before and I took a few photos of the scars.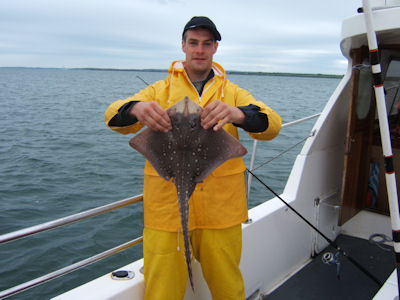 The estuary has also produced some nice fishing. In the lower estuary we had some fine double figure Huss and had on one very big one that broke off as it came to the surface. Higher up the estuary we had some steady Ray fishing.
---
Fishing Report 15th August
I had a man fishing with his grandsons over with me last week. It is great to see the craft of sea fishing passing on from one generation to the next. And if I am as fit and able to fish when I am the age of this gentleman I will be delighted.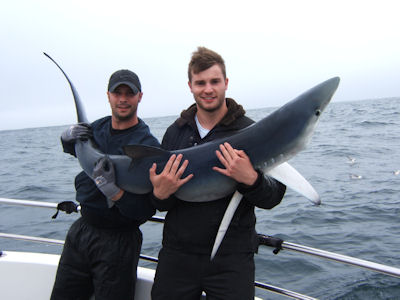 Although I was very conscious that I did not want to be in sea conditions that were too uncomfortable we had a lovely weeks fishing. The fishing in the estuary is never going to see the same action as further out to sea but it provided us with some fine calm water fishing even on windy days. We had some Thornback ray up to 8lbs, Bullhuss to 10lbs and plenty of Doggies. There are also quite a few Mackerel now about further up in the estuary which provided a tasty lunch as well as the important roll of great bait! We also had Gray and Tub Gurnard. When it was calm enough to venture out in comfort there were some fine Pollack about along with Ling, Haddock, Red Gurnard and the odd Cod.
The young lads were out to catch their first ever Shark so we also gave that a go and had a fine days fishing. The best shark of the day was over 90lbs and gave a great account of herself before we got her on board, got that photo for the album, tagged her and sent her on her merry way. The day was rounded off with some fine Haddock, Cod and Whiting while fishing from the bottom along with some Red Gurnard one of which was of specimen weight at .98kg.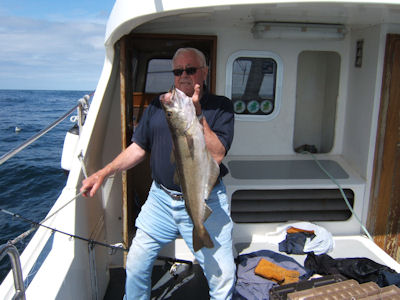 To end the week I had a group out for a day charter and we had the normal range of fish but also came on a shoal of fine sized Mackerel from which the lads quickly filled a box. They had a plan to smoke some of them and had some Apple tree wood dried and kept aside for the purpose. A discussion on the best wood for the job was firmly put to bed when yesterday evening I was presented with a bag of the said apple wood smoked Mackerel. The result I can only describe as exquisite and is a must for any lover of smoked fish!
---
Fishing Report August 8
My fishing over the last week was with 2 groups. One of which have been coming over from Scotland for a few years now and it was good to see them again. The other was a group from Northern Ireland which were fishing with me for the first time and although 10 in number still managed to fish well from the Clare Dragoon. This was in no small part due to them being used to fishing together and being experienced.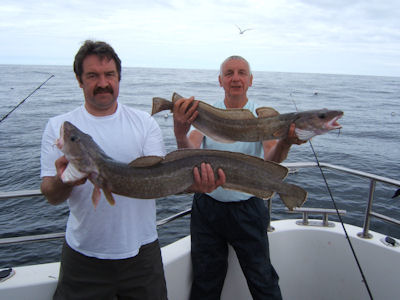 Fishing on most days was on the drift in good conditions and as over the last while, we had some very good fishing but also slower periods. The wind was from all over the shop and although never to strong it was changing direction constantly.
The best sessions were with muppets, catching Ling and other whitefish and gilling for Pollack. One of the groups had some Mustad Wrecking lures (muppets) which was a rig I used to like a lot but had got hard to get. These seemed to out fish all other types of muppet rigs and I have got some now again to try out. A session at anchor did produce some Conger with the best at 25lb. There are still also a lot of Red Gurnard and Cuckoo Wrasse about.
---
Fishing Report 1st August
We have just had a lovely week of weather and fishing here off the coast of Clare.
I had a group of fisherman in from the delta area of the Dutch Belgium border who are all experienced fisherman and get the best out of what is available. They were lucky with the weather and we could get out to sea in lovely conditions every day of their trip.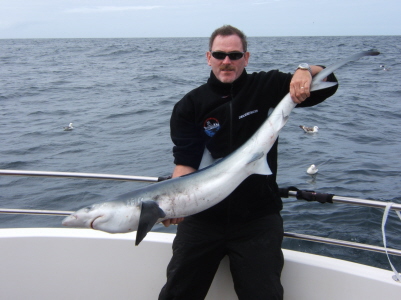 Some of the highlights of the week included the first Shark of my season. We did this shark trip on the only day of the week with a little breeze to give us a good drift. This resulted in 2 shark in the boat and another couple of dropped runs. They are the first Blue shark I have heard of on the west coast here but there have been a couple caught over this last weekend so the Blues are now about. Hopefully they will stay as normal well into October.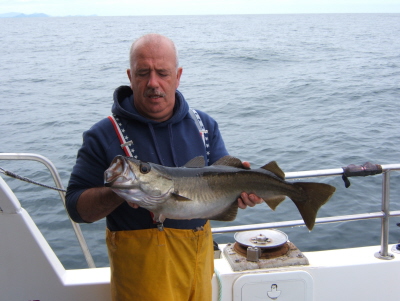 We also had a really good session on big Spur Dogs with quite a few into double figures and one that was about the 12lb specimen mark although probably just under. On light tackle on a nice day these gave great sport. Another species that seem to be about a lot were fine Red Gurnard. Fishing tight to the bottom with strips of Mackerel would turn these up although a few were also taken on shads!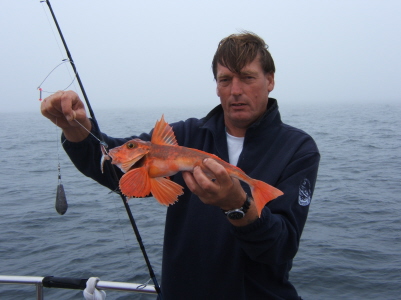 The same shads were also providing some good Pollock fishing with spinning rods and when fished close to the bottom were also taking Ling and the odd Cod. There is no doubt that this fishing picks out the bigger Pollack and when fished direct to the line with lead heads of around 120grm and the correct rod, this fishing method is right up there with any sport fishing. It does take a little while to get your technique right but when mastered it is so much more fun than the more traditional method with a boom and lead. When this method did slow down at certain stages of the tide we found that light perks would work well.
So all in all the fishing is going well here now, although at some stages of the tide if the drift is held up we do have quieter periods. Hopefully the weather and fishing will continue to be kind to us in the coming week
---
Fishing Report 25th July
Since my last report we have had all types of fishing and weather here! Last weekend the winds got up to force 9 which is not at all pleasant and indeed I had to put my boat in its winter home for a day! The one good thing about the break in the weather was that it brought on the arrival of some Mackerel shoals to the area. Now we are back into a lovely settled spell.
When my last report finished we had just had some fantastic tope fishing and since that we have tried a couple of sessions but the numbers have not been as good although we did have 5 for one session. The last tope we had was a 35lb male last Sunday and for the effort and time we put in it was a poor return. So as normal, the Tope season is tapering off here towards the end of July. I wish I knew why this happens but it is very constant and if it goes true to form we will only get the odd one now for the rest of the season.
The Mackerel brought on a feeding frenzy close to the land and for a few days last week we had a mix of all sorts of fish to be had through the Mackerel. One of the best was a Coalfish of 13lb which put up a great fight on light tackle. The surge in the fishing was at its best for about 3 days but we have also had some fun wrasse fishing close in.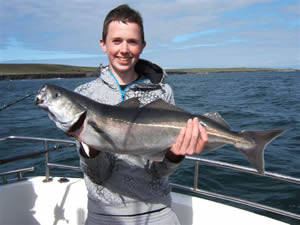 Further off you do have to work for your fish with different tactics working each day. On one day in particular it was very noticeable how the Pollack were taking shads above any other method. There have also been some nice Haddock and Spurdogs about. The best of these was 10.5lb. Ling seem to have got a little harder to catch and are not making up the same percentage of the catch. But one species which seems to be every where are very colourful Cuckoo wrasse.
---
Fishing report 11th July
Getting into my busy season now so this lovely weather is a god send. After 2 weeks of day charters I now have a group of 6 Dutch men in for a week. This means we will have more time to try things out and hopefully get some interesting fishing.
Over the last week the general fishing is still quite. At this stage the lack of Mackerel is very noticeable and is true all along this coast. We are getting plenty of them out from the shore but by now you would expect to get to the Loop, drop lines and full a box. This is most certainly not the case and it has got to the stage where I spend very little time trying for them until a mile or 2 off. There you can pick up plenty for the days bait on the drift and now and again come across a big shoal. Having said that every now and again they do turn up in the normal places. Lets hope they come in soon in numbers, as much for the shore fisherman as anybody.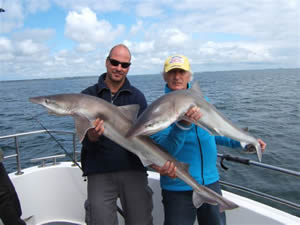 On the drift a mile or 2 off we have been getting a lot of species, with quite a few small codling at times, also haddock, whiting, ling and Pollack but numbers are small. The fishing further off is still not in full swing, although we have had some good spurts of Pollack and there seem to be a few Spur Dogs about, most around the 8lb mark.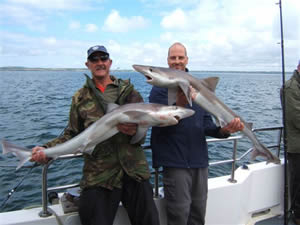 One fishing that is way above average is the Tope fishing. We have done a couple of sessions now and fish seem very plentiful. Just yesterday for a couple of hours we had 22 in the boat. We also lost about another 10 /15 due mostly to multiple hook ups and resulting tangles. I think twice during the session 4 fisherman had a fish on at the same time!!!
So lets hope the tope hang about for a bit and if this week goes to plan I will also be trying my first Shark trip of the season. So until my next report, enjoy the weather and get fishing!!
---
Fishing Report 27th June
Almost the end of June and another mixed week both fishing wise and weather wise!
I have been out almost every day since my last report and every day it's like fishing in a different place. We have had some lovely sunny weather, a down poor for a full day more in place in a rain forest and day with a winter gale, but still where else would you go!! When it's nice on the west coast of Ireland it's the best place there is.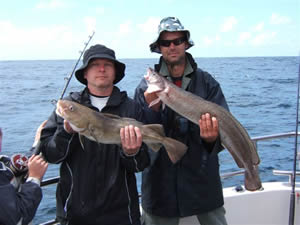 The fishing has been ok but never flat out. Over the week it has still been hard to get into heavy mackerel fishing although we did have our first day this year when we filled the bait box with ease. The other days it took a little looking around. There are also some fine Launce about that make good bait. This week I also had our first Mackerel up the estuary east of Kilcredaun Head, so things are looking up there. The fishing in the estuary is still slow with Ray scarce on most marks and this was true even with a hard working group from a northern fishing club. The marks in the shelter around Horse Island are picking up though and we had some fine Congers there.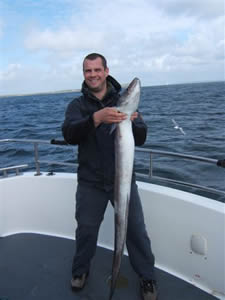 Out to sea we are having ok fishing. The species count is good but the fish seem to be feeding in spurts. Although there seem to be plenty of fish on the sounder it can be slow at times and I would say the catch rate is not at its best. This would be mainly true of Pollack and maybe because of this the catch of Ling seems to be up. There are also lots of Red Gurnard on the ground.
I had a nice father and son team over from Austria this week for a 2 day trip. The son had been fishing on the west coast of Canada quite a few time and his fishing stories were putting me under a bit of pressure, especially as I have already said the fishing was what I considered a bit slow. So I was delighted when he passed the comment as he left that it was the best fishing trip he had been on! So its official, despite the weather and all our other grumbles…when it's nice the west coast of Ireland is the best there is!!!!
---
Fishing Report 21 st June
I had been away for a week's holiday with my family and got back to Ireland last Thursday. So a day to get the boat ready and then back out fishing last Friday.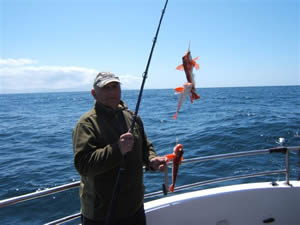 Friday morning was ok with a moderate sw wind but with a mixed sea still there from a blow the day before. I got fishing at loop head with the group and we gathered together enough Mackerel for bait. We then moved off just a mile or 2 and had some steady fishing for a while. After this with the winds again picking up a bit we moved back into the estuary. With the tide filling I decided to have a go in some shelter on the south side of the estuary above Beal point. This was a mark that has produced some good fishing on previous occasions including Ray and Tope. However on this occasion we had no luck and moved to Collage Bay for a try. This did produce a handy Conger and a couple of small Whiting and gurnard. However all in all the estuary fishing was slow. I will however be hoping to try the Tope in earnest over the next week.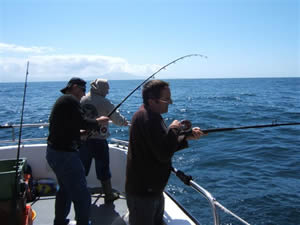 On Saturday we were very limited by a strong NW wind so I fished a short day in the shelter off Horse Island. This did produce some steady Pollack fishing with a few up to 7lbs and even a nice Cod. However one remarkable thing was the total lack of any Mackerel!
Over the next 2 days the weather was a lot more favourable and we had some lovely mixed fishing west of Loop head. There was lots of species to the boat and one lad even had a triple shot of Red Gurnard. North of the Headland the fishing was if any thing more productive but with the catch consisting of almost all Pollack.
---
Fishing Report 7th June
At last we got a break in the weather and I have been out every day since last Thursday. Thursday and Friday were almost flat calm and it got rid of the frustration of the previous few weeks very quickly! After that we did get a little increase in the wind speed but it was very fishable.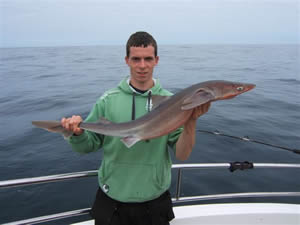 Fishing at the Loop for Mackerel was still very hit and miss, although we could get plenty of them at times. Fair to say they are not in, in their full summer shoals yet. Just north of the loop there was a good sign of Pollack and even a few Codling. Size was on average quite small although there was the odd good one to ambush you!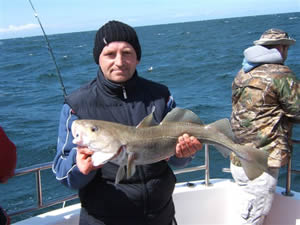 Out on the reefs I was fishing on the drift each day and we were getting up to 15 species per day. This included plenty of good Pollack and on some days even a fair scattering of handy Cod, which was nice to see. There are also plenty of Haddock, Ling and Whiting about. Also there were a few Spurdogs prowling and the best of them was only 50gr under specimen. So let's hope they stay about.
As I write this there is again a little break in the weather but hopefully just a day or two this time!
---
Fishing Report 31st May
Still struggling with weather and the fishing has been very limited, but at last as I write this the forecast is giving a change for the better over the next few days.
I got down along the land to Loop head in a very strong NW wind last Thursday and fished in an area where we had great fishing the week before but 2 hours fishing did not produce a single fish! Fishing in the estuary over the next few days was very slow with just a few Thornback ray and dogfish. It seemed even the fish had given up on the weather!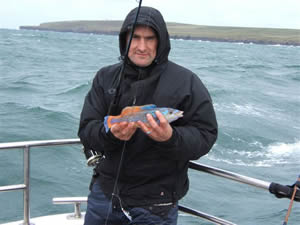 On Saturday I had a hardy group of lads in from Northern Ireland and with some moderation in the winds I decided to try to get west of the Headland but conditions were still to poor. We did have a reasonable session in the area that had been so quite only 2 days earlier. The following day started still windy but with some moderation given for the afternoon. So I passed the morning in the estuary and then in the early afternoon made another attempt to get out west! We did get a bit of a tossing on the way but conditions improved as we got clear of the land and within no time were into very good fishing with lots of Pollack to about 8 pounds and a few nice Cod in the 5 to 6 lb range. We also had Haddock, Whiting and Ling to the boat.
So good signs and if this weather does improve as it looks like, I would expect the following week to be very busy!

---
Fishing Report May 19
I started back fishing here in wonderful weather after Easter for the last week of April.
It was great to be out again after the winter break, the sea was lovely and although they were still scarce there were enough Mackerel about to catch our bait for the day. Drifting on the reefs west of Loop head were producing fine catches of Pollack with Ling, Haddock and Codling also about.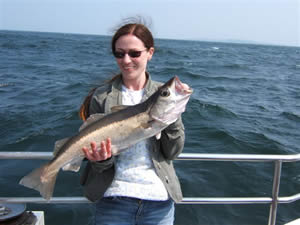 Also while fishing at anchor during these first days of the season we had a heavy bite on some conger gear. As it was a mark where we have had a few big Six Gill sharks I was immediately on the alert and we rigged a trace with a big bait and sent it down. Another heavy take followed by a short fight after which the fish dropped the hook. After another try, this time we got firmly hooked up but the fish was having none of it and headed up tide at a steady but unstoppable rate. I decided to haul the anchor so I could follow it and indeed by the time I was ready to move 300 mtrs of line had been stripped of Johns reel. By motoring after the fish we got a good bit of the line back and settled down to try to get whatever it was to the surface. Over the next 70 minuets I continued to back up on the fish and as time went on we were gaining line, then gone, the hook slipped again. While we did not see the fish, judging by the marks on the trace I would have no doubt that it was a 6gill and as a matter of interest we had followed and fought it for 650mtrs from my anchored position!
After the good start, the wind started to freshen over the next few days from the South East and while we could not now fish on the reefs out to the west we had some nice shelter on the north side of the headland. Mackerel were getting thicker and by the second week of May were very plentiful. We had some good sessions fishing close in for Ballan wrasse, getting them up to 4 lbs. Just on this fishing it is worth noting that while we did get the occasional wrasse on mackerel bait, rag worm completely out fished any other bait. There was also some nice mixed whitefish fishing with in 2 to 3 miles of the shore to the north of the Loop although this got harder as the winds continued to pick up over the days.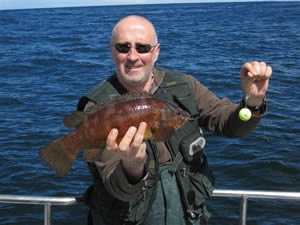 Then the weather went completely to the bad with strong westerly and I had to put off some trips. Indeed over the last 2 week I have only been out 1 day when a bit of North Westerly wind gave me a break as far as the Loop Head. On that day there was a good sign of Mackerel and Pollack just west of Horse Island so we did make a day of it. But at the moment I am completely at the mercy of the weather and Badly need some break in this consent wind, to get out fishing again!
The only up side of this broken spell of weather is that the old fisherman that I grew up with always said a "May break" in the weather was a good sign for good summer weather. So here's hoping!!